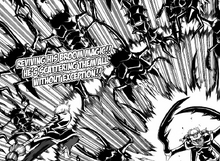 Agiri
are creatures that are essential for one to obtain the
Broom Magic
. One needs to defeat a thousand of them with only a broom to obtain the power.
Later it is revealed that Shion trained with the old pervert Grandpa Garlan, who has the body of an agiri and can summon them at will. Garlan is probably the ritual itself, because broom magic can only be granted by him, and due to his powers, its extremely hard to reach the thousand headcount.
Shion is the only person to date who has ever defeated Garlan and his Agiri Monsters; he has currently reached the three thousand mark.
Garlan seems to be the a high-rank Agiri because they only come when summoned by him.