Fool's Town (Chapter) (ブール・タウン Būru Taun) is the twelve chapter of the Magico manga series.
Synopsis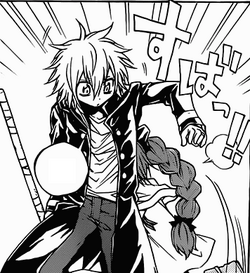 Emma
,
Shion
and
Luu
arrived in
Fool's Town
. Emma is all exited and that caught Shion's attention telling her that she can be on her own and that she must be careful. Shion then pulls out his money, and gives it to Emma and Luu, telling them that they will need them for shopping.
Emma then is happy and tries to hug Shion but Luu interrupted it. They're then all been heading to the city. When they arrived at there, Luu is then acting strange while she is hiding behind Shion.
Luu then says that there are too many peoples which she likes it. Shion then says that she must stop pulling on his pants before she's pulling it off. Shion then reminds that they will head to the ritualist first, but after seeing that Emma is staring, she then says that she will get on shopping. They went to places that caught their interests.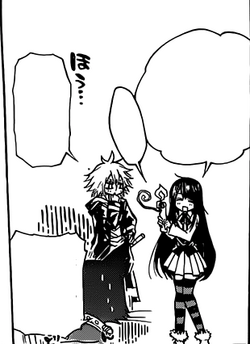 A unknown yell where been heard, after that Emma showed Shion a weird candle. It contains to be Luu eating apples for free. Shion then ask Luu what she is doing which Emma starts to apologize the female seller.
The female seller then reminds Shion saying that it has been a long time alongside with Anise. It caught Emma's attention which she ask if he knows her.
Anise then explains that Shion used to come a lot to the city to perform his magic and get known. Emma then introduces herself and say that she is the wife of Shion. The women seems to be impressed that Shion is coming with a cute girl. Luu then tells her that she is the daughter which she caught up a shock, which that Shion tries to explains it. Emma then has noticed that peoples at the city doesn't have a grudge against Shion. Anise then explains that most of the peoples knows Shion for a long time and knows his nature of all the incidents. Anise then says that not everyone likes Shion.
A voice then is heard saying why he's here taking it easy when he has send him a order. It contains to be Grandpa Garlan and his assistant Toto.
Characters In Appearance
*Note: Bold = First Appearance